Outline of frontal collision test
test method

In this test, a child dummy is placed in a child seat installed in the test seat fixing on the sled,then the sled accelerated equivalent front collision speed of 55 km/h (this collision speed is 10 % higher than the government regulated frontal collision speed). Then, evaluation of the damage of CRS installation arear, resultant acceleration on a dummy's head and chest, excursion distance of a dummy head and aggresiveness under the condition of restrained by the harness are measured.
●A CRS used for test is purchased at a normal shop.
●In FY2002, it was pointed out that the test results may be influenced by the difference of initial position of the dummy head for some of the CRS (rearward facing). Since FY2003, all tests were conducted that a dummy head was contacted on the child seat.
●Since FY2003, quantitative measurements using a surface pressure meter on the abdomen of child dummy was introduced in CRS for toddler in order to evaluate the degree of pressure applied to the abdomen.

Test seat was changed.
●From FY2009, test seat installing CRS was changed from Toyota ESTIMA seat to the test seat using for the test of safety technical regulation of CRS.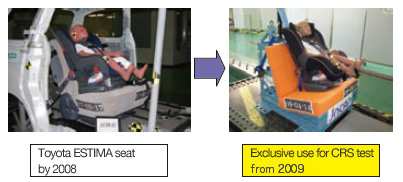 ●Review of evaluation threshold
Comparison tests were conducted for new test seat and Toyota ESTIMA seat, and based on these study results, evaluation thresholds were reviewed. Due to the modification of these evaluation thresholds, it is possible to compare new data and old data.