Outline of usability evaluation test
evaluation method
Products were scored in survey areas, and the average of the scores in each survey area is reported in the survey results.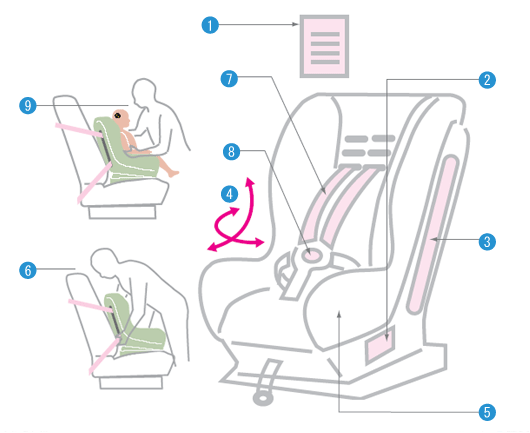 Test area
Object tested
Standard performance level
Instruction manual etc.
Instruction manual
Explains installation of CSR to the vehiole seat and placing of child inCSR.
Contains descriptions mandated by tthe echnical standards.
Installation method of CSR and placing of child in the CSR can be understood by the diagrams and written instructions.
Contains warning against installation in front passenger's seat.
Contains descriptions mandated by technical standards
Explains variations in installation of seat and placing of child in seat depending on size of the child.
Explains how to confirm that the child seat is properly installed.
Package written markings
Weight or height of children for which the CSR is appropriate is indicated on the package (in Japanese).
Written markings on the product
installtion guidovnce,etc
Indicates method of installation
Contains warning against installation in front passenger's seat.
Contains warnings and prohibitions mandated by technical standard. Descriptions mandated by technical standards and standards which the CSR meets are shown.
Markings are appropriate, not likely to lead to misunderstandings.
Describes where to get further information on the product.
Standard met by the product ais indicated (marks acceptable).
Belt guide
Verbal instructions printed.
Product mechanisms
Movable structures
(ease and reliability of reclining, rotating)
Locks with certainty. Position of lever switch is easy to understand.
Connector and top tether may be simply operated.
Seat cover
(ease of maintenance)
After the seat cover is removed or attached, it is difficult to make a mistake installing the harness. Can be installed with certainty.
Built-in storage section
(for manual, accessories)
There is a place for storage of manual and accessories (if any).
Easy,mistake-proof installation
(to the car seat)
Belt routing
It is difficult to make a mistake in routing. Belt easily passes through passages. Twisting or folding of vehicle seatbelt does not occur.
Certainty of fixing
Possible to fix easily and certainly by a person (may be loaded)
Fixing metal parts may use easily as sufficient fixing
For forward facing:no wobbling after fixing (when pulled up to up ward direction with 10kgt,movement shall be stayed between 3 to 5cm)
For rearward facing:seat back angle shall be stayed with in 45±10 degrees. (may insert something between vehicle seat and CRS)
May be confirmed fixing certainly by sound or indication, etc.

Placing ability
( securing of child to CSR)

Harness
Slots easy to find.
Proper adjustment can be done easily and with certainty.
Buckle
Locking can be done easily and with certainty.
Force required to release buckle is sufficient to make it difficult for child to release (40N or more).
Placing in seat
A specialist can seat the dummy in the proper position within 1 min.
Evaluation item is added for universal type ISOFIX child seat