Outline of abdominal pressure measurement
How to read test results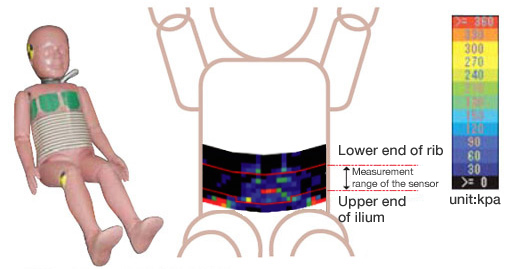 Installation of pressure meter on the dummy abdomen
 Due to the CRS which causes high pressure on the toddler's abdomen, quantitative measurement of the pressure on the abdomen is measured to install pressure meter on the abdomen of the dummy during test since FY 2003.
Total abdominal loads added each pressure on the abdomen which is considered from lower end of rib to upper end of ilium, and consided that its value can be evaluated degree of the injury for the toddler. Over 1.30 kN (* 1.38 kN was used by 2006) become evaluation of [X] mark.
Note,
(1) 3 years old dummy (Hybrid-III 3YO) used for test is not same as the human and has the structure not to deform over 50 mm on abdomen. Additionally, chest structure has not deform over 40 mm, therefore distance of deformation are different. For this reason, in the case that the limits of pressure is added on these parts, measured pressures of abdomen and chest are not correct values.
(2) Regarding distribution chart when abdominal total loads become maximum, simply easy to understand the pressure distribution when maximum load is appled, and this is not showed actual area of pressure.
Review for evaluation range, etc. started in 2007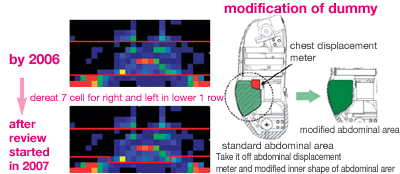 In abdominal pressure measurement,due to the problem of dummy structure, some time, it was measured correctly. To solve this problem, research was conducted in 2006 and 2007. Based on this study, reviewed evaluation range and modification of dummy was done.
Due to this review, abdominal overall load which is considered to provide injury to the toddler, was changed from 1.38 kN to 1.30 kN.
New evaluation range and modification of dummy was used starting in 2007.